Neo-futurism is a 21st century movement in design and architecture that was a settled way of post-modernism and represents an idealistic future.
Eero Saarinen (1910-1961)
A Finnish American industrial designer and architect that was known for varying his style according to the demands of the project that were:
Simple
Sweeping,
Arching structural curves or
Machine-like rationalism
Born in 1910, Saarinen immigrated to the United States in 1923 and settled in Bloomfield Hills and there he attended Cranbrook Academy of Art where his father taught and took classes in sculpture and furniture design.
Eero Saarinen and The Gateway Arch experimental model
The Gateway Arch
One of his important and successful design was the gateway arch that is known as the 'Gateway to the West'. It was designed by himself and structural engineer Hannskarl Bandel in 1947 and built between 1963 and 1965. It stands 630 feet tall and 630 feet wide at its base. The legs are 54 feet wide at the base, narrowing to 17 feet at the arch. There is a unique tram system to carry passengers to the observation room at the top of the arch.
The Gateway Arch
TWA Flight Center, New York (1962)
Saarinen designed some of the most beautiful, distinctive and graceful buildings and structures in the United States. On the East Coast you will find the former TWA airlines terminal at JFK airport. Saarinen's original design featured a prominent wing-shaped thin shell roof, unusual tube-shaped departure-arrival corridors and tall windows enabling expansive views of departing and arriving jets. He designed also the Manhattan's CBS building as known as the Black Rock and another airport in Washington that is the Dulles Airport.
Airport (TWA Terminal, New York)
The Main Lobby
Saarinen's Furniture
Organic chair – inspired from nature
Organic Chair by Eero Saarinen
The organic chair is a comfrotable small reading chair and was made in 1940 by Charles Eames. The seat shell and armrests blend smoothly into one another and give the armchair a particularly harmonious look.
Materials:
Laminated seat shell
Polyurethane upholstery foam
Frame in ash legs
Stained black
Polyamide cover
Tulip Chair and Tulip Table
Eero Saarinen designed the collection of both tulip chair and table. It is a defining accomplishment of modern design. It was designed in 1956 with a perfectly capture that brought together in the décor world. For Saarinen, fluid design and flowing curves followed basic ergonomics. His design philosophy behind the Tulip lineup was simple, clear and well founded.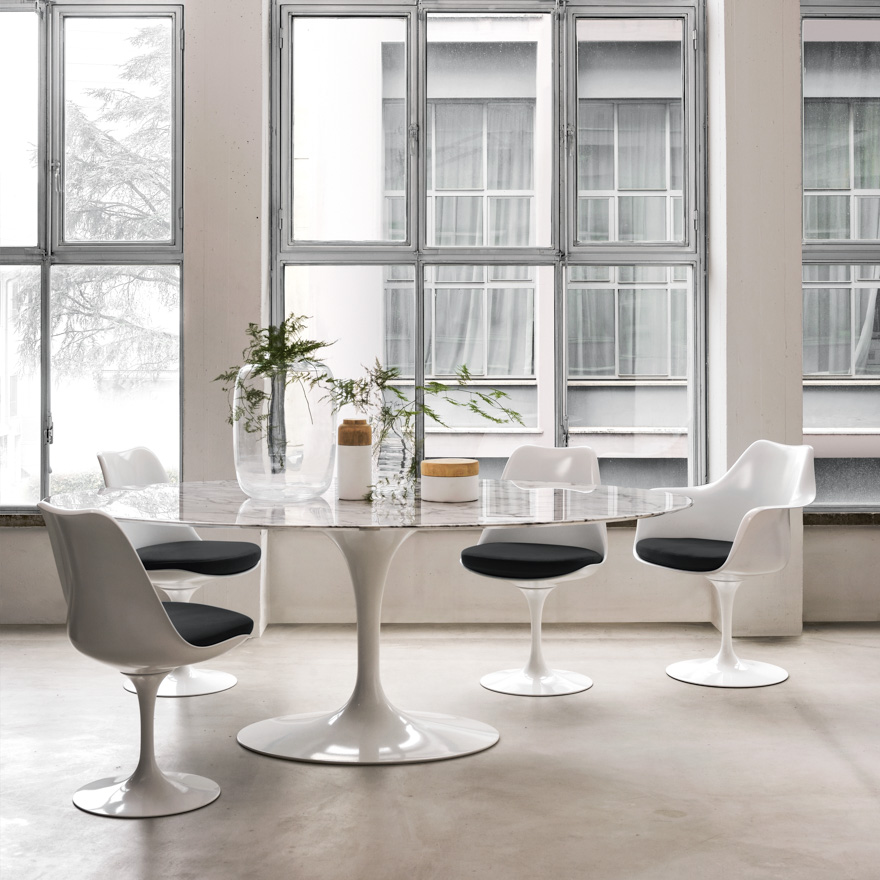 Tulip chairs and table
Womb Chair
The womb chair envelops the person and creates a safe and comfortable place to curl up and relax. It is made of:
Moulded fibre
Glass seat shell
Supported on a bent tubular frame
Nylon swivel glides
It is upholstered in a boucle fabric and has loose latex foam cushions for increased comfort. Like many of Saarinen's furniture designs, the Womb Chair required production techniques and materials still in the infancy of their existence.
Womb Chair
References: 
Neo-futurism – https://en.wikipedia.org/wiki/Neo-futurism
Knoll – Eero Saarinen – Tulip Arm Chair – https://www.knoll.com/product/tulip-arm-chair